New v1.7.2 Biomes
Hi all,
With the v1.7.2 update are some new biomes. They can be hard to find on an old map like ours, so I've created new warps to three of them: IceSpike, Mesa and Savana.  Here are some pictures.
WireWrap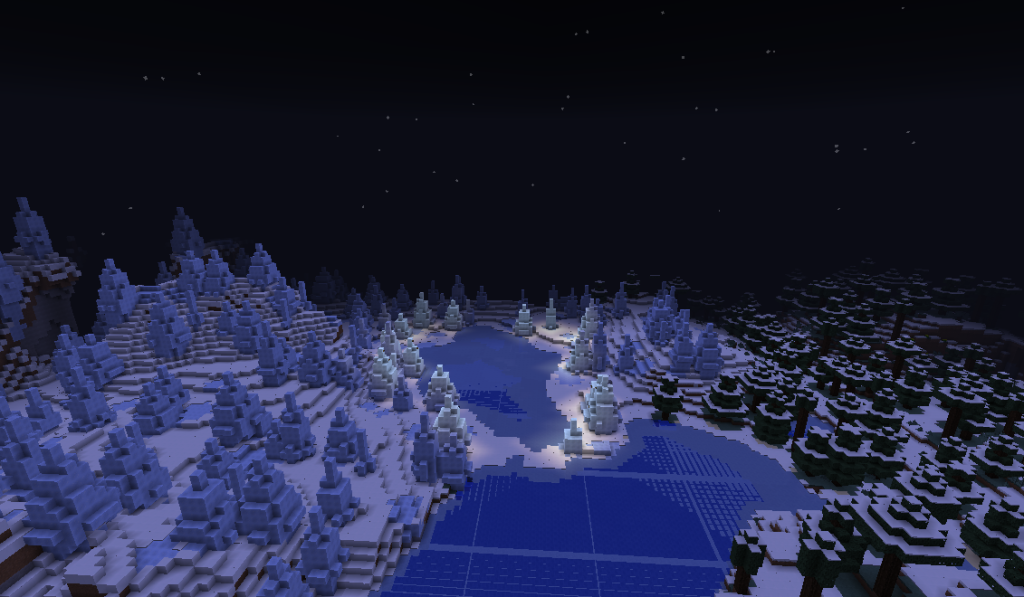 Written by WireWrap
Thursday, May 1, 2014 at 12:10 AM
---
NXTCRAFT Upgraded to v1.7.2
Well this has been long overdue but last weekend NXTCRAFT was upgraded to v1.7.2 !
It took much longer to get up to speed on all the plugins, games and features of NXTCRAFT than I expected, but I wanted to complete that before upgrading to a newer server version. I'm happy to say that's now complete and the server upgrade went very smooth. We now also have a new test environment in place so we can test future development builds as they become available. Testing of v1.7.8 is already under way and once a beta build of Bukkit is released, we will upgrade to that shortly after.
Thanks for your patience and as always, if you encounter any problems, please let us know and we'll do our best to resolve them.
-WireWrap
Written by WireWrap
Wednesday, April 16, 2014 at 9:37 PM
---
Christmas 2013 Contest!
Merry Christmas and Happy Holidays!
Are you looking for a fun Minecraft activity over the Christmas holidays? NXTCRAFT is holding another Christmas contest this year. This time it's a "5 Days of Decorating" contest! Take some time over the next 5 days to decorate your house or faction and then submit pictures to enter the contest. The entries that receive the most votes wins. Here are the details:
Take some "before" screenshots (press <F2>) of the area you plan to decorate.
Then decorate your area. It can be part of your faction or a single house.
Afterwards take some "after" screenshots.
Before the end of Dec. 29/13 e-mail all your screenshots to support(at)nxtcraft.com with the e-mail subject: Christmas Contest – "your Minecraft username".
After Dec. 29th the staff will vote for first, second and third place.
The prizes are:
First Prize
30 Days of Obsidian Rank ($8.95). Receive our highest Premium rank!
8 HORSE Spawn Eggs ($1.45) Spawn the rare horses instantly with your spawn eggs!
Second Prize
30 Days of Emerald Rank ($5.95)
16 Villager Spawn Eggs ($1.45).
Third Prize
30 Days of Gold Rank ($3.95)
16 Cow Spawn Eggs ($1.45)
Be sure to read what each premium rank includes at http://nxtcraft.com/docs/ranks.php. The rules are the same as for the Halloween contest (see below), except multiple builders can work on a single entry. The prize will be awarded to the builder submitting the screenshots but everyone on the winning team will be acknowledged, so include all builders in the e-mail.
Good luck and Happy Holidays!
WireWrap
Written by WireWrap
Tuesday, December 24, 2013 at 10:33 PM
---
Auction Fever!
Hi all,
Auctions are now enabled all day and every day. Try out your auction skills on NXTCRAFT! We may later schedule auction events where we auction off various items. Stay tuned!
WireWrap
Written by WireWrap
Thursday, December 12, 2013 at 11:56 PM
---
Faction Inaction
Hi NXTCRAFT players,
Lately there have been a few problems with factions on NXTCRAFT. The Faction plugin has actually been working properly and as designed, but the feature that auto-kicks members from a faction has caused problems for some users.
nxtguy previously increased the timeout to two weeks over the default one week setting, however when people get busy and don't play for two weeks, the plugin will automatically remove them from their faction. This by itself is easy to fix if there are other users in your faction: ask someone in the faction to invite you back. A bigger problem occurs if you are the only user in the faction.
If you are the single member of a faction and the auto-kick time is exceeded, you will be removed from the faction as before. But then since the faction now has no members, the plugin removes the faction and unclaims the land. It's not something regular players want to see when they do join again.
However this is done for a reason. This feature deals with new users that join a server, create a faction in an inconvenient place and then disappear, never to log in again. The plugin will remove the faction after a set time so the land can be reclaimed. It's a good feature in some cases, but in many cases the timeout should be extended.
So today I increased the Factions plugin timeout (autoLeaveAfterDaysOfInactivity) from 14 to 60 days. I also increased the faction disband time (ConsiderFactionsReallyOfflineAfterXMinutes) from 0 (disbands immediately after the last player leaves) to 10 days. Let's see how this goes. If you have these problems with your faction, please join the server and go to your faction home, then create a ticket (/ticket) and we will try our best to assist you. Sorry for this inconvenience.
Factions is a nice Bukkit plugin and the authors have done a great job with it. You can read more about the Factions plugin here: http://dev.bukkit.org/bukkit-plugins/factions . Here is more info on faction strategies: http://www.minecraftforum.net/topic/970503-the-ultimate-guide-to-factions .
Happy Minecrafting!
WireWrap
Written by WireWrap
Tuesday, December 10, 2013 at 8:24 PM
---
Hello from WireWrap
Hi all,
First, thanks to nxtguy for all his efforts in keeping NXTCRAFT running great all this time! As he mentioned in his previous post, he will now be focusing on his other projects and I will be taking over the management of NXTCRAFT.
To introduce myself, I've been playing Minecraft for a couple years and have some experience managing Minecraft servers as well as other types of servers. I hope to get to know the user community better in the coming months.
There is a fair amount involved with running a public server, but I'll do my best to keep it running well. My initial goals are to get a better understanding of all the features on NXTCRAFT and also work with the user community and moderators to address any issues or concerns. I want to continue making NXTCRAFT a family friendly server and a fun place to play.
So thanks again nxtguy, moderators and users. I'll see you all ingame!
Regards,
WireWrap
Written by WireWrap
Friday, November 29, 2013 at 10:05 PM
---
Management Change at NXTCRAFT
Hi Everyone,
As you know I've been running NXTCRAFT for awhile now and it's been a lot of fun. I've met some great people and learned lots of useful skills. However, to run a server like this takes a lot of time and I would like focus more on other projects now, like software development. For that reason I'm going to hand over management and day-to-day operations of NXTCRAFT to WireWrap. WireWrap is someone that has agreed to continue to run NXTCRAFT and I will assist in ensuring a smooth transition.
So NXTCRAFT will still be running, same as before. Thanks to the moderators and users for creating a great community around NXTCRAFT. I hope the community continues to grow. I'll still be online while WireWrap transitions and afterwards so I hope to see you ingame.
All the best,
nxtguy
Written by NXTGUY
Friday, November 29, 2013 at 9:13 PM
---
Halloween Build Contest Results Are In!
Thank you to everyone who has entered in our second Halloween contest! The staff and I really enjoyed looking at all the Halloween themed creations you guys have built! The competition was tough this year and the 1st place entry was only scored 0.25 more than the 2nd place entry! (That's really close!)
A reminder that the winner will receive:

[30 Days] Obsidian Rank ($8.95) Receive our highest Premium rank!
8 HORSE Spawn Eggs! ($1.45) Spawn the rare horses instantly with your spawn eggs!
Assorted Horse Armor Pack! ($2.95) Protect your horses with all types of horse armor!
A choice of:
6 Name Tags! ($1.95) Rename your mobs with these super rare name tags!
OR
128 Exp Levels! ($1.95) Finally create that dream sword you wanted, with XP to spare!
How the Judging Worked
Before I announce the winner, I would like to explain a little bit of how the judging process worked.
Basically, the staff involved with judging visited each entry by the location you set. Then they gave the entry a score out of 5 based on originality, creativity, and how well the entry was Halloween themed. Once all the scores were received, each staff's score was then added up then averaged to get the entry's overall score. The overall score was then used to determine the winner.
Enough Talking, Now the Winner!
The winner for NXTCRAFT's 2013 Halloween Build Contest is Romomania with his/her awesome looking pumpkin patch! (Picture below)
Everyone's entries were very good, and like I've said before the first and second place score difference was only 0.25!!!
Thanks for everyone who entered, and we look forward to seeing what you build next year!
Winner's Entry
Runner Up Entries
Thanks for everyone's entries! I'll be at Minecon for this week so I'll be tweeting pictures! (If I have Wi-Fi, xD)
Happy Minecrafting!

Written by NXTGUY
Wednesday, October 30, 2013 at 6:41 PM
---
Halloween Build Contest!
Halloween is just around the corner, and that means our Halloween build contest is too! Last year we had lots of fun seeing all the Halloween themed things players have made so the contest is back again this year!
Here's how you can enter. Starting today (Sunday, October 6th) start building a fantastic Halloween themed build. It can be anywhere from a Haunted Minecart Track to a Spooky Halloween Mansion. What ever you are going to build, you have about 2 weeks to build it.
When you're finished adding the final touches, type /contest in game. (Make sure you stand at the location you would like the judges to appear when they judge your build!)
After the contest ends, we'll judge all the builds and pick a winner! The winner will win the prizes below! Make sure to review the rules, and good luck!
Contest Prizes!
At the end of the contest, a few staff will judge the contest submissions. Each moderator's score will be averaged to get the total score for the entry. The build with the highest score will win the following prize package. (In an event of a tie, there will be a vote.)
[30 Days] Obsidian Rank ($8.95) Receive our highest Premium rank!
8 HORSE Spawn Eggs! ($1.45) Spawn the rare horses instantly with your spawn eggs!
Assorted Horse Armor Pack! ($2.95) Protect your horses with all types of horse armor!
A choice of:
6 Name Tags! ($1.95) Rename your mobs with these super rare name tags!
OR
128 Exp Levels! ($1.95) Finally create that dream sword you wanted, with XP to spare!
Contest Rules
Only one builder per entry. As much as we encourage working together, this year there may only be one builder per entry.
One entry per account. Each Minecraft account may only submit one contest entry.
Prizes and entries are non transferable. The player who builds the creation, submits the entry, and receives the prize must be the same. (You cannot win the contest, then ask the price to be given to your friend's account.)
Banned players may not be judged. If you are currently banned you cannot participate in the contest.
Entries may only be worked on during the contest build period. You may not start building your entry until after the contest officially opens, (Sunday, October 6th) or after the contest build period ends.
Cheating of any kind is not allowed. Using any client mods to give you an advantage is not allowed.
Entries must be original. You cannot completely copy another build on YouTube or another entry.
That's about it! Good luck and we look forward to seeing your entries!
Written by NXTGUY
Sunday, October 6, 2013 at 2:15 PM
---
Server Data Transfer Completed
We have successfully transferred over to our new dedicated server! It took a little longer than expected but we are glad everything went as planned in the end.
What does this mean for you?
You should notice no difference when playing/connecting to NXTCRAFT. We have completely cloned the data on our old server to our new server. If anything you should notice increased performance.
Why did we switch to a dedicated server?
We switched servers for multiple reasons. This new server should have better uptime, better performance and we have full control over it. Because we have full control, we can do a lot more things such as better RAM and disk space monitoring, faster maintenance periods, full control of plugins, and many more things. We hope you notice a performance improvement! 
If there are any problems, please don't hesitate to contact any staff member online! 
Written by NXTGUY
Friday, September 13, 2013 at 10:45 PM
---